Trento, 29 November 2022
Champions League, Trentino Itas raises its head on the most important occasion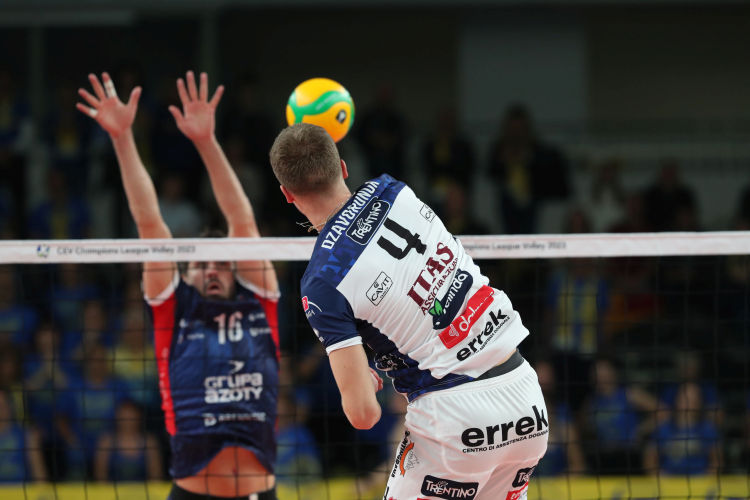 The atmosphere of a great European night revitalises Trentino Itas and makes it collect a very important result for its journey in the 2023 CEV Champions League. Tonight, at the BLM Group Arena the yellow-blue left away their last two previous SuperLega losses against Perugia and Milan, collecting a very important and well-deserved victory against the two-time European Champions of Grupa Azoty Kedzierzyn-Kozle.
The top game of the last round of the first round of Pool D, a remake of the 2021 and 2022 SuperFinals, saw the hosts prevail 3-1 against the Poles at the end of a match that, as was assumed on the eve, turned out to be vibrant. Even more so, the success and consequently the three points for the rankings of the Pool (now led solo by Lorenzetti's team with three points of advantage) are an added value to the performance offered in front of their audience.
On the day of the 200th international match of its history, Trentino Volley again found character and efficiency in attack, as tells the 56% registered today. Alessandro Michieletto, who did a monstre performance (21 points with 71% and 4 ace:MVP), but also the excellent Džavoronok (10 with 62%) and the exponential growth of Kaziyski (14 with 45%), who started slowly but then became more and more protagonist. Only in this way could the three-point victory be conquered, in a match in which the Poles made many blocks, defended and served better, after winning the second set and getting the point 1-1. The subsequent sets were decided by the pride of Trentino.
Below is the scoreboard of the third turn of Pool D 2023 CEV Champions League, played tonight at the BLM Group Arena in Trento.
Trentino Itas-Grupa Azoty Kedzierzyn-Kozle 3-1
(25-20, 17-25, 26-24, 25-23)
TRENTINO ITAS: Sbertoli, Michieletto 21, Lisinac 10, Kaziyski 14, Lavia 7, Podrascanin 4, Laurenzano (L); Džavoronok 10, Nelli 1, D'Heer. N.e. Pace, Depalma, Berger e Cavuto. N.e. Coach Angelo Lorenzetti.
GRUPA AZOTY: Sliwka 11, Kalembka 9, Kaczmarek 21, Staszewski 17, Pashitskii 8, Janusz 3, Shoji (L). N.e. Karyagin, Stepien, Wiltenburg, Kluth, Smith, Zalinski e Banach. Coach Tuomas Sammelvuo.
REFEREES: Collados from Vienne (France) and Schimpl from Bratislava (Slovakia).
SET DURATION: 24', 21', 28', 31'; tot 1h e 42'.
NOTES: 1.846 spectators. Trentino Itas: 4 blocks, 5 aces, 17 serve errors, 5 action errors, 56% in attack, 49% (20%) in reception. Grupa Azoty: 8 blocks, 6 aces, 13 serve errors, 11 action errors, 50% in attack, 43% (9%) in reception. Mvp Michieletto.
Trentino Volley Srl
Press Office