Trento, 01 December 2022
ITAS and Trentino Volley together for the promotion of the retirement benefit plan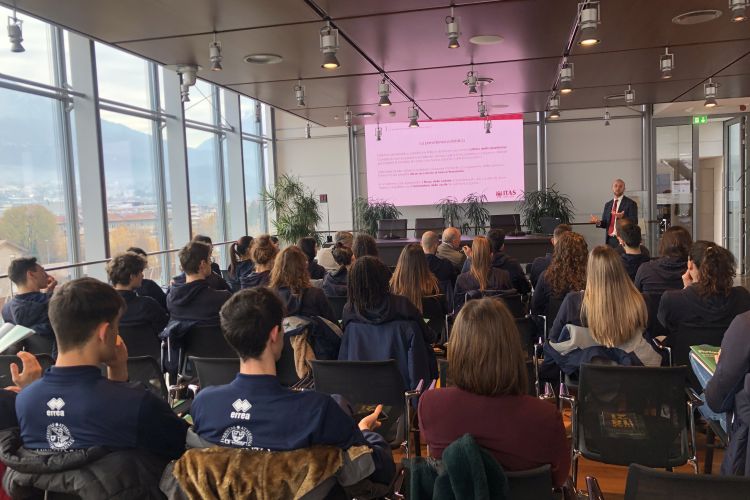 This morning, at the headquarters of the Itas Assicurazioni Group in Trento, there was the presentation of the project that sees male and female players of Trentino Volley as protagonists in the promotion of a culture of social security through a specific communication initiative created by ITAS for its Plurifonds pension fund. "ITAS has enthusiastically joined the new project, included within the historical collaboration with Trentino Volley, because it is fully coherent with the values of our mutual aid society. The popularity of the players involved will then be crucial to inform about the serious and real issue of the supplementary pension" explains Fabrizio Lorenz, president of ITAS Vita, then he continues: "The goal is to raise awareness, especially among young people, about the importance of acting as of now; indeed, timeliness is essential to ensure a bright future".
Precisely for this reason, not only the first team players were engaged, but also the youth players who, also today, took part in a training workshop held by ITAS coaches who illustrated to them the benefits in adhering to a supplementary plan that can support them even at the end of their professional activity. Trentino Volley has been particularly sensitive to these issues, so much so that it has decided to activate some specific supplementary positions for its players.
"We supported ITAS's proposal right from the start, and our boys and girls made themselves available to give shape to a new promotional campaign" declares Bruno Da Re, president of Trentino Volley, he continues "What we are going to do with Trentino Volley, is a change in our sector; in fact, the club will commit to pay a first amount into the Plurifonds Pension Fund on behalf of its players. This is meant to be an act with a highly symbolic value, to make young people aware of the importance of supplementary pension, a topic for the future that we imagine to be far away, but which we need to think about today."
Specifically, the advertising campaign that will start in the coming weeks consists of a series of photos portraying male and female players during some game phases with a claim that emphasises how individual success is due to teamwork and shall be built day by day.
This is the same principle underlying the supplementary pension funds: a close collaboration between the member and one's own fund, which must be fostered day by day and which, in the end, ensures a brighter future for those who choose this path.
And today, more than ever, it is important that these messages shall be understood, especially by the younger generations, those with the most uncertain future in terms of retirement, in the awareness that: the earlier one starts thinking to one's supplementary pension, the easier it will be to keep a stable income and standard of living.
The campaign will also continue with some creative projects involving Trentino Volley Captain Matey Kaziyski besides the girls of Trentino Volley Women.
Trentino Volley Srl
Press Office