Trento, 29 January 2023
SuperLega, the first home victory of 2023 against tonight against Monza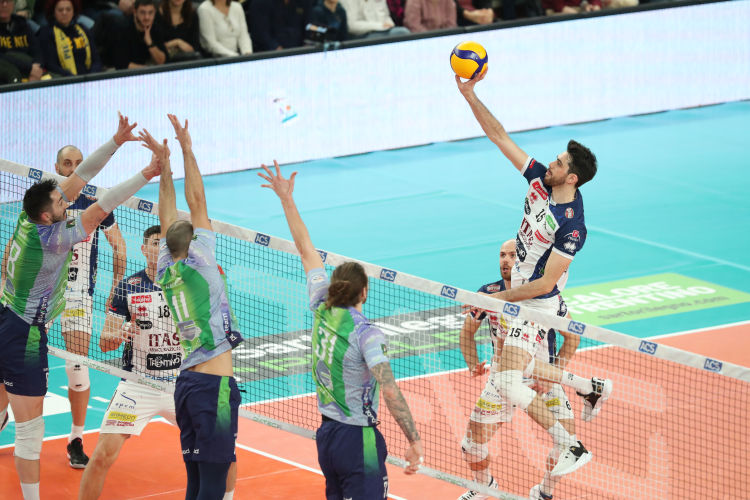 The atmosphere at the BLM Group Arena is positive and goes well with Itas Trentino ambitions of getting high in the rankings of the SuperLega. After three weeks, the team is back in front of its public and defeated Vero Volley Monza in three sets during the match valid the seventeenth turn of the SuperLega, and conquered the first home victory of 2023 – the third consecutive one in the last eight days.
This success confirms the second place in the rankings, but also reaffirms the good moment from a technical, mental and physical point of view after the positive matches against Civitanova Marche and Kedzierzyn-Kozle. Monza team got back in Trento with a background of four victories and twelve out of fifteen points available in the second round, and in order to stop the opponent, one of the best versions of Itas Trentino was necessary. And Kaziyski and his teammates (led by Michieletto's service and Lavia's attacks, the best of this match) made it through the opponents' attempt to make a comeback in the third set. At that moment, Monza also had four balls that could have taken the match to the fourth set (three consecutive on 21-25 and another one on 24-25), but they could not make it, thanks to the yellow-blue team's incredible skills at block and Kaziyski and Lavia's ability to destroy Monza comebacks. At the third opportunity, an ace by Sbertoli (always active, at block too) secured the 3-0, made with a constant proof in attack (team's 53%, 68% for Lavia) and with very few errors (just 11 between serves and hits).
Below is the scoreboard of the match valid for the seventieth matchday of the regular season of SuperLega Credem Banca 2022/23 played this afternoon at the BLM Group Arena.
Itas Trentino - Vero Volley Monza 3-0
(25-15, 25-18, 30-28)
TRENTINO ITAS: Lavia 20, D'Heer 5, Sbertoli 2, Michieletto 15, Podrascanin 7, Kaziyski 11, Laurenzano (L); Džavoronok, Nelli. Pace (L). N.e. Cavuto, Berger, Depalma, Lisinac. Coach: Angelo Lorenzetti.
VERO VOLLEY: Szwarc 11, Maar 10, Galassi 6, Zimmermann, Davyskiba 12, Beretta, Federici (L); Marttila, N.e. Visic, Pirazzoli, Rossi, Hernandez, Beretta. Coach: Massimo Eccheli
REFEREES: Vagni from Perugia and Piana from Carpi (Modena).
SET DURATION: 23', 24', 37'; tot. 1h and 24'.
NOTES: 2,212 spectators, proceeds of 16,884 euros.
Itas Trentino: 11 blocks, 11 aces, 16 serve errors, 4 action errors, 49% in attack, 44% (24%) in reception. Vero Volley: 6 blocks, 3 aces, 11 serve errors, 9 action errors, 44% in attack, 45% (18%) in reception. Mvp Lavia.
Trentino Volley Srl
Press Office