Taranto, 05 February 2023
SuperLega, Itas Trentino decisive in Taranto. 3-0 in the name of Kaziyski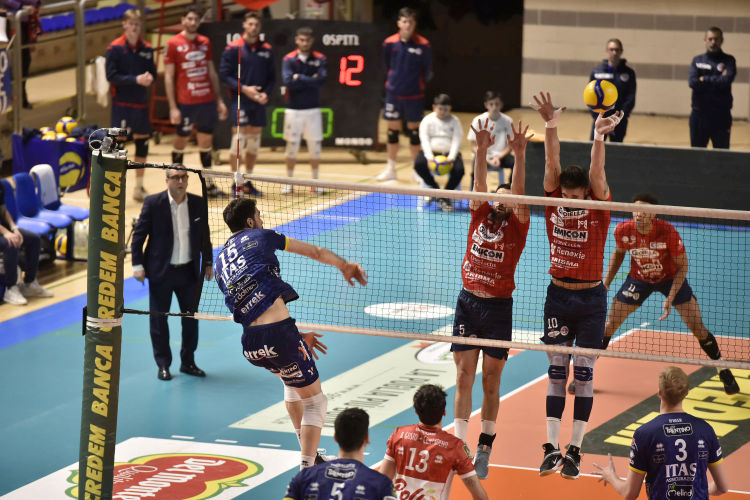 The longest away-match of the entire regular season of SuperLega Credem Banca 2022/23 reserves another three-point victory for Itas Trentino. This afternoon the yellow-blue lineup confirmed its shining conditions, collecting the full result also at the PalaMazzola in Taranto: in the match valid for the 18th round, the hosts of Gioiella Prisma were defeated in just three sets, at the end of an important trial from all points of view.
The third consecutive victory in the championship is in fact worth a lot for the ranking, which sees the yellow-blue team confirmed in second place together with Modena, but it also matters a lot for the way it was reached; in Puglia, indeed, the lineup coached by Angelo Lorenzetti once again proved to be authoritative, sharp and keen when the situation requires and allows.
For long moments, the Ionians players made the yellow-blue team suffer, putting in a lot of aggressiveness on serve in attack; Trento did not let itself be frightened, remained constantly attached to the score even when it found itself below a few points (15-20 in the first set) and then, dragged by Kaziyski, took advantage of the right opportunities to win the first two sets beyond the normal score and by 25-22 the third and final set.
It was a significant match, in the name of the legendary captain (20 points with 62% in attack), but also with the significant performance of Sbertoli (crystal clear as setter and very incisive on serve, especially in the first set) and carried on by Lavia and Michieletto, both scoring twelve times.
Below is the scoreboard of the match valid for the seventieth matchday of the regular season of SuperLega Credem Banca 2022/23 played this afternoon at the BLM Group Arena.
Gioiella Prisma Taranto - Itas Trentino 0-3
(24-26, 26-28, 22-25)
GIOIELLA PRISMA: Falaschi, Loeppky 14, Larizza 4, Lawani 20, Antonov 9, Alletti 7, Rizzo (L); Ekstrand, Andreopoulos, Cottarelli N.e. Gargiulo, Pierri. Coach: Vincenzo Di Pinto.
ITAS TRENTINO: Lavia 12, D'Heer 3, Sbertoli 4, Michieletto 12, Podrascanin 6, Kaziyski 20, Laurenzano (L); Nelli 2, Džavoronok 1. N.e. Cavuto, Pace, Berger, Depalma. Coach: Angelo Lorenzetti.
REFEREES: Carcione and Cesare from Roma.
SET DURATION: 29', 32', 28'; tot. 1h and 29'.
NOTES: about 1,500 spectators, proceeds not reported. Gioiella Prisma: 3 blocks, 3 aces, 15 serve errors, 3 action errors, 54% in attack, 28% (14%) in reception. Itas Trentino: 7 blocks, 5 aces, 13 serve errors, 3 action errors, 55% in attack, 44% (15%) in reception. MVP Kaziyski.
Trentino Volley Srl
Press Office