Trento, 16 September 2023
Euro2023, 4 players on the podium: the silver medal for Italy, bronze for Kozamernik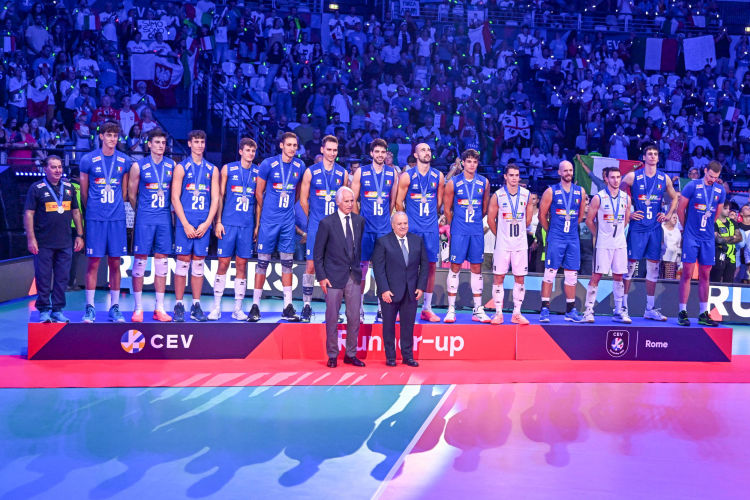 The European 2023 ended with four Trentino Volleyball players wearing medals around their necks: silver for Lavia, Michieletto and Sbertoli with the Italian team; bronze for Kozamernik with the Slovenian team.
The Azzurri this evening in Rome failed to confirm the title they had won two years earlier in Katowice, conceding 0-3 in the final against Poland who thus achieved the summer "double", having also won the VNL 2023.
Lavia (his team's best scorer) and Michieletto were not enough, nor was the umpteenth positive entry of Sbertoli at serve (an ace at the end of the first set) to change the inertia of a match that the opponents always gave the impression they could control. For the Trentino trio, however, this is the third medal in the last three summers, which they have always experienced as protagonists with the national team. On the podium in Rome there was also room for Jan Kozamernik; the new yellow-blue middle-blocker player (who will return to Trento in October after five seasons of absence) in fact won third place with the Slovenian team, overcoming France at the tie break in the hard-fought final for the third place. For all the six Trentino Volleyball players involved in the 2023 European Championship, there will be a few days' rest before returning to work with their respective national teams to prepare for the upcoming Olympic qualifiers.
Below are the statistics of the four Trentino Volleyball players who took the court on the final day of the 2022 World Cup.
JAN KOZAMERNIK (middle blocker, Slovenia)
Slovenia-France 3-2: 7 points (5 attacks, 2 blocks), 63% attack (5 out of 8)
DANIELE LAVIA (hitter spiker, Italy)
Italy-Poland 0-3: 13 points (11 attacks, 2 blocks), 55% in attack (11 of 20), 27% in reception
ALESSANDRO MICHIELETTO (hitter spiker, Italy)
Italy-Poland 0-3: 10 points (9 attacks, 1 block), 56% in attack (9 of 16), 28% (11%) in reception
RICCARDO SBERTOLI (setter, Italy)
Italy-Poland 0-3: 1 point (1 ace)

Results of the 2023 European Championship Finals:
3rd-4th place final Slovenia-France 3-2 (25-22, 25-16, 21-25, 18-25, 15-11)
1st-2nd place final
Italy-Poland 0-3
(20-25, 21-25, 23-25)
ITALY: Michieletto 10, Russo 2, Romanò 9, Lavia 13, Galassi 6, Giannelli 3, Balaso (L); Scanferla (L), Sbertoli 1, Rinaldi. N.e. Bottolo, Bovolenta, Sanguinetti, Mosca. All. Ferdinando De Giorgi.
POLAND: Śliwka 9, Huber 12, Kaczmarek 10, Leon 13, Kochanowski 9, Janusz 1, Zatorski (L); Fornal, Semeniuk 1. N.e. Popiwczak, Kurek, Klos, Bednorz, Lomacz. All. Nikola Grbic.
REFEREE: Sarikaya and Vasileiadis.
SET LENGTH: 31', 32', 36'; tot 1h 39'.
NOTES: Italy: 6 blocks, 3 ace, 16 hitting errors, 3 attack errors, 55% in attack, 33% (22%) in receiving.
Poland: 4 blocks, 11 ace, 15 hitting errors, 4 attack errors, 51% in attack, 54% (18%) in receiving . Mvp Leon.
Trentino Volley Srl
Press Office