Trento, 22 September 2023
On Saturday night Itas Trentino is going to Schio for its first away game of the season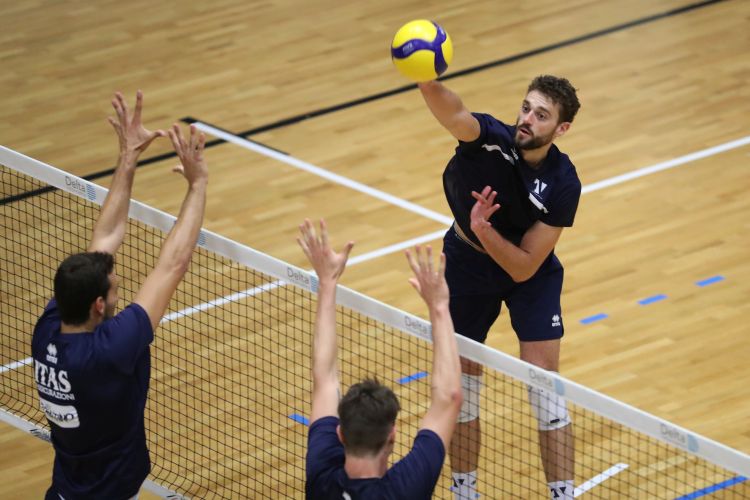 Exactly halfway through its pre-championship training (started Aug. 22, will end Oct. 21), Itas Trentino male team will make its season debut in an official friendly match. The occasion is provided by the "1° Trofeo Città di Schio", an event that will take place on Saturday, September 23 on Schio's soil. It's going to be a one-off match between the Italian Champions and Valsa Group Modena: kick-off is scheduled for 6 p.m. in Palasport Livio Romare, which sold out already a few days ago (2,200 tickets were sold in pre-sale).
For coach Fabio Soli, making his debut on the Gialloblù bench, this will be the first real test: it will come at the end of the fifth week of training. Trento's new coach will have to do without Magalini (who recently suffered a sprained right ankle while training), but he will be able to count on the other seven players of the new roster, who will be joined for the occasion by six players from the Youth Team and by German spiker Baumann (who's currently in Trento). "After such a physical and technical training, I believe that playing a real match, in front of a live crowd and against a ranked opponent like Modena, will be very useful for both the players and us of the coaching staff," Soli explained, "We had a few intense weeks with little devoted to six-on-six play; this match will allow us to take stock of the situation, and will give us many insights for the coming period. It's also a good opportunity for the younger players who are doing this part of training together with us and whom I thank for their support. Their "Serie B" championship with UniTrento Volleyball will begin on October 8, and they will be eager to prove that they are ready and useful to our cause."
Across the court, Itas Trentino will find a worthy opponent in Modena, which in these first weeks of training has been able to work with ten out of fourteen members from the new roster (except for Bruno, Brehme and for Rinaldi and Sanguinetti, from the national team), including former players Juantorena and Pinali. Coach Francesco Petrella (who was on Trentino Volley bench during the previous six seasons as Lorenzetti's assistant) will also be able to count on Stankovic and Sighinolfi at the center of the net, under the direction of Mattia Boninfante (son of Dante Boninfante); Modena's coach will also have Belarusian Davyskiba (former Monza) and Russian Sapozhkov (former Verona) on high ball. For the "canarini", this is the second away game of the season after a 4-0 success against Reggio Emilia last weekend.
Trentino Volley Srl
Press Office