Schio (Vicenza), 23 September 2023
The '1st city of Schio trophy' goes to Modena but the young Trento team fights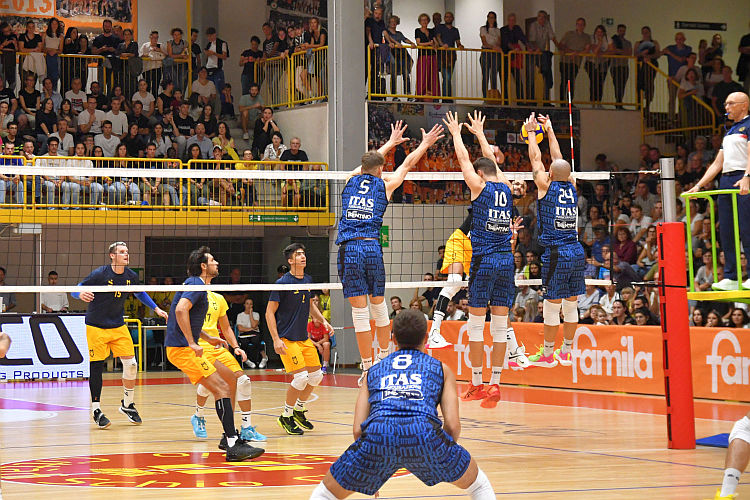 The first month of pre-championship preparation goes into the archives with the four sets played in the '1st City of Schio Trophy' for Itas Trentino men's team. Valsa group Modena won the match this evening in the PalaRomare full of spectators (over 2,500) excited for the event. Without six players involved with their respective national teams and at the last also Magalini (sprained ankle) and Cavuto (low-grade abdominal injury, sustained Friday night in training), the Italian champions reasonably struggled to keep up the pace of a rival further along in fitness and with a staff closer to the one they will use in the next month or so, corresponding with the start of the SuperLeague.
However, coach Fabio Soli, in his first official outing on the yellow-blue bench, took advantage of the opportunity to put a hundred minutes of playing time to Rychlicki, Acquarone, Berger, Laurenzano and Pace and to test the fitness at high levels of talented players from the Trentino youth academy such as Bristot, Fedrici and Dell'Osso, all of whom were deployed in the starting lineup.
Despite the defeat, the indications were nevertheless positive; when Modena let its guard down, after two sets in which its already "titular" high-ball trio (Sapozhkov, Juantorena, Davyskiba) commanded, a strong-willed Itas Trentino immediately took advantage, reopening the match in the third set in the advantages. The fourth set, however, again saw the Emilians dictate the law.
It was the main diagonal that made the best impressions: Acquarone distributed the game with lucidity and effectiveness despite having few safe exits, and Rychlicki showed that he was able to carry the weight of the attack against the lined-up wall, as evidenced by his 15 points with 50% at the net. Also in double figures was Bristot (11, with three blocks and an ace on Juantorena); a good performance for Berger and the pair of Liberi Laurenzano-Pace, who alternated on the volleyball court (first two sets for Gabriele, last two for Domenico).
Below is the scoreboard of the '1st City of Schio Trophy' played this evening at PalaRomare.
Valsa Group Modena-Itas Trentino 3-1
(25-19,25-18, 24-26, 25-18)
VALSA GROUP: Sighinolfi 3, Boninfante 4, Juantorena 19, Stankovic 9, Sapozhkov 16, Davyskiba 19, Federici (L); Pinali R.. N.e. Pinali G., Gollini, Melato, Bronodolo,
Menabue, Sandu. Coach Francesco Petrella.
ITAS TRENTINO: Dell'Osso 3, Acquarone 2, Bistrot 11, Berger 8, Rychlicki 15, Fedrici 7, Laurenzano (L); Pace, Nelli 4, Bernardis, Sandu, Batman 1, Pellacani 3. N.e. Megalini and Cavuto, coach Fabio Soli.
REFEREES: Zanussi of Treviso and Lot of Santa Lucia di Piave (Venice)
SET LENGTH: 25', 24', 27', 24'; in total 1h40m.
NOTES: Around 2,500 spectators. Valsa Group: 14 blocks, 6 ace, 17 hitting errors, 9
action errors, 53% attack, 47% (20%) reception. Itas Trentino: 10 blocks, 3 ace, 17 hitting errors, 11 action errors, 39% in attack, 44% (19%) in reception.
Trentino Volley Srl
Press Office