Trento, 28 September 2023
Preparation, Friday (6 pm) at ilT quotidiano Arena test match vs S.Croce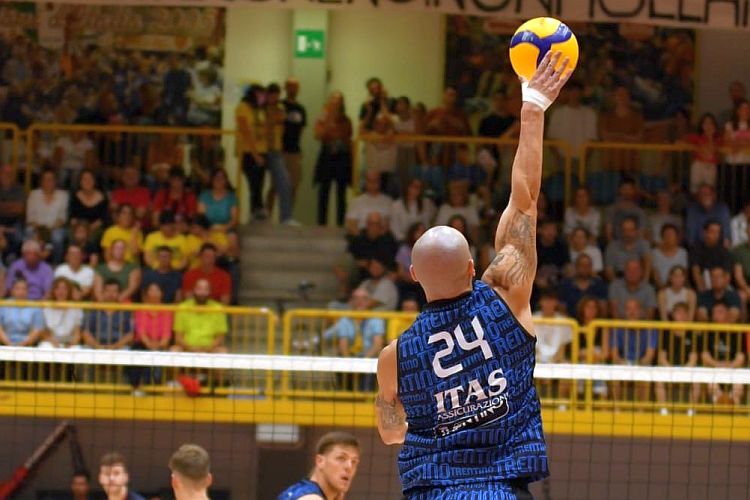 Itas Trentino's men's team are stepping up their preparation programme for their SuperLeague debut (on October 22nd in Cisterna di Latina) with (at least) one test match a week. After the four-match series with Modena in Schio last weekend, the first home match is scheduled for Friday September 29th, but as a combined practice. Starting at 6:00 p.m. at the T quotidiano Arena in Trento, the Italian champions will take on Kemas Lamipel Santa Croce, a historic Serie A2 side; it will be a very reliable test for Fabio Soli's team: it will be the sixth friendly match of the season for the Tuscans, after those played in recent weeks against Siena (2-3), Cuneo (2-3), San Giustino (2-1), Pineto (1-2) and Perugia, challenged only on Tuesday night at PalaBarton. Coach Bulleri's squad includes names familiar to volleyball fans, such as coach Coscione, hitter spiker Parodi, middle blocker Mati (MVP of the recent U-17 national finals held in Trentino last June) and Puerto Rican opposite spiker Lawrence (ex-Milan).
The Trentino coach will be able to welcome back Giulio Magalini (who has been working with the group since the beginning of the week, having recovered quickly from a sprained ankle suffered last week), while Oreste Cavuto (who is still nursing a minor abdominal injury sustained last Friday) and six players who have been involved in Olympic qualifying with their national teams since Saturday (D'Heer, Kozamernik, Lavia, Michieletto, Podrascanin and Sbertoli). "The match against Santa Croce is certainly the most important moment of the sixth week of preparation," said coach Fabio Soli. "After the positive match against Schio, we need to test our physical and technical condition and continue to grow in terms of our game and match rhythm. The fact that Magalini will be playing at number 4 for the first time will certainly add to the excitement of this first home game".
The training session will take place in open court and will be broadcast live on Trentino Volley's YouTube channel (www.trentinovolley.it/trentinovolleytv).
Trentino Volley Srl
Press Office