Trento, 30 September 2023
Training, Itas Trentino won 3-0 in joint training with Santa Croce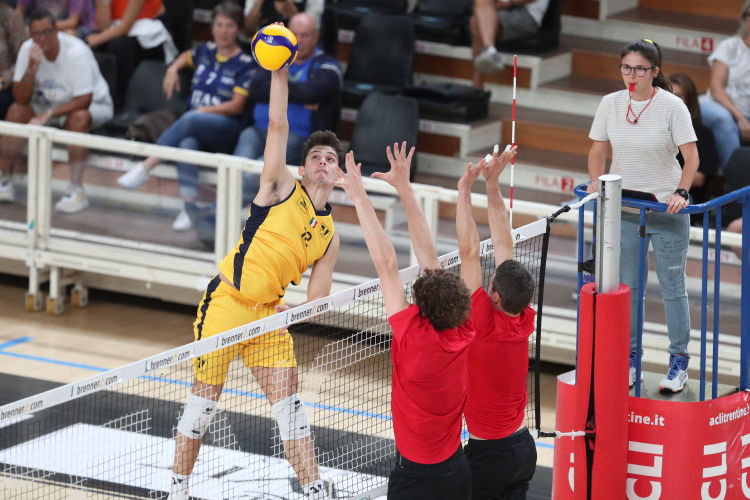 The first (unofficial) home game ends in victory for Itas Trentino's male team. Last evening at the ilT quotidiano Arena in Trento, the Italian champions went 3-0 against Kemas Lamipel Santa Croce at the end of the joint training that concluded the sixth week of preparation. The team will have only one more training session in the weight room on Saturday morning before a day and a half of rest.
Yesterday's test match, played in front of a hundred fans, allowed coach Fabio Soli to put seventy-five minutes of play into his players' legs and to test Magalini for the first time. With Cavuto still recovering and with six players busy with their respective national teams, the debut of Verona's setter was a major highlight. And Giulio did not disappoint, scoring 12 points with 75% at the net in the first two sets, masterfully backing up opposite hitter Rychlicki (18 with 4 blocks) and the other hammer Bristot (12 points as well). The 3-0 victory was ever only in question during the second partial, when the two teams went head-to-head, with Trento winning 33-31 on the advantages, thanks to Berger's consistency (11 winning balls with 58% in the first half, an ace and three blocks) and the ever effective direction of former duty player Acquarone. At the end of the match the coaches took the opportunity to play one more set, which was won by Itas Trentino 25-18, thanks to a wild Nelli (8 points in that partial).
"I am glad I was able to measure on the court, in a real test, our current form," Trentino Volley's coach Fabio Soli explained at the end. "Every day we set goals that tonight we were able to meet; I was especially pleased to see how this team was able grit their teeth in the second set and win the contest. Mental toughness and character is always needed, both in training and in friendlies, to create the right mentality for the matches that will really count."
Next test match: Once again at home, on Wednesday Oct. 4 at 5:30 p.m. will be time for a joint training session with Innsbruck.
Below is the scorecard of the joint training held this afternoon at the ilT quotidiano Arena in Trento.
Itas Trentino-Kemas Lamipel Santa Croce 3-0
(25-22, 33-31, 25-20)
ITAS TRENTINO: Acquarone 1, Magalini 12, Berger 11, Rychlicki 18, Bristot 12, Pellacani 8 Laurenzano (L); Pace (L), Nelli 1, Bernardis, Fedrici. N.e. Sandu, Dell'Osso. Coach: Fabio Soli.
KEMAS LAMIPEL: Coscione, Colli 8, Mati 13, Lawrence 13, Petratti 1, Cargioli 5, Loreti (L); Gatto 2. N.e. Gabriellini, Parodi, Brucini, Russo, Matteini, Giannini. Coach: Michele Bulleri.
REFEREES: Tomasi e Barsottini from Trento.
SET LENGHT: 21', 34', 24'; tot. 1h and 16'.
NOTES: About 100 spectators. Itas Trentino: 12 blocks, 2 aces, 28 hitting errors, 7 action errors, 49% offense, 64% (57%) reception. Kemas Lamipel: 5 blocks, 2 aces, 15 hitting errors, 6 action errors, 44% in attack, 59% (52%) in reception.
Trentino Volley Srl
Press Office